When it comes to style inspiration, my grandmother (or Oma, as I call her) is the first person that comes to mind. This is a women who is full of so much grace and beauty.
Quick bio:
She was born in Germany in 1929 and later met my grandfather during WW2 after being a refugee along with her mother, sisters, and brother. Her father was a prisoner of war and they did not know he was still alive until years later when they were reunited. During the war, my grandfather, who was stationed close to her home, would bring her and her family food and other essentials. Soon after he swept her off her feet, they fell in love (he was 10 years her senior) and began a family...and lived happily ever after:)
My Oma is awesome person, she has the best sense of humor - really, she is quite a hoot and we would always have a good laugh together, she is sweet, feisty, strong, and always had quite a stylish flare...sometimes even a little over the top. She loved big chunky jewelry (her collection is incredible), animal prints, and bright colors. We would always talk fashion - she appreciated my style - the good, the bad, and the ugly. To this day she still tells me how much she loves my printed tights or red boots and so on. She was not afraid to stand out in the crowd and just be herself. It took guts to be a German girl transitioning to the states and learning a new language and new culture but she did it and she did it with style and class. I like to think I inherited many of her great qualities. There really aren't any words good enough to describe her but I love her dearly and am so proud that she is my grandmother.
Susie in Eichstadt - 1946, age 17
Frank & Susie - My Grandparents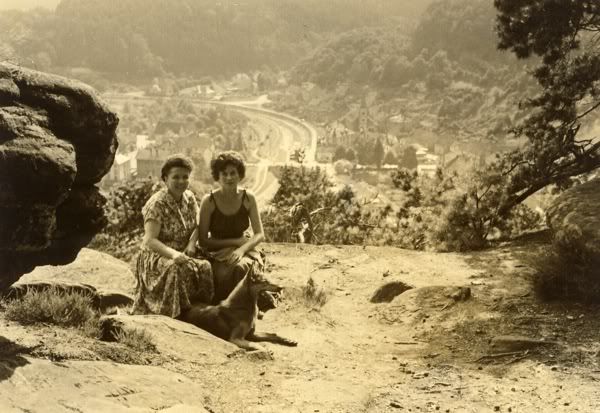 Lutzelberg 1955
Easter 1950