So it's been almost a week since I have updated my blog. Shame on me. Things have been such a crazy whirlwind that time has slipped through my fingers almost unnoticed. School began for us this past Monday (I work at a technical high school in the arts and human services academy) and I have barely had a moment to myself. So here I am now, blogging and savoring this very moment.
To catch up - It was another jammed packed weekend for Al and I. Quick recap - Friday night consisted of going to dinner with some friends at a wonderful little noodle house called
Issei Noodle
. The summer rolls and shrimp pho were de-lish. We concluded the night with coffee, tea, and dessert at
Green Room
. If you are from the central Pennsylvania area, I would highly recommend checking out both of these places in Carlisle. Everything at the Green Room is fresh, local, and organic. It is decked out with whimsical wall sculptures and paintings from local artists. I had homemade chocolate habanero and fresh garden mint chip ice cream. Oh my, it was unlike anything else I have ever tasted. The chocolate was deep and rich and the habanero gave it a hot and complex after note. I was thankful that I ordered it with a scoop of fresh garden mint chip, which was the perfect thing to cool off the heat.
On to Saturday - it was Al's 30th birthday! He is the best husband (and father) ever and I am so proud of him and so thankful to be his wife. I know I say this a lot, but it is true. To celebrate this momentous occasion, ee spent the day in Philly and went to
Cuba Libre
for lunch. Oh my gosh I swear it was one of the best meals I ever had at a restaurant. Camarones con canas - cuban bar-b-que shrimp with a fried pepper stuffed with mascarpone cheese and sweet potatoes and a pineapple guacamole salad made my taste buds party like it was 1999. I know, sounds corny, but food like this gets me excited. Before leaving, we downed coffees with mexican chocolate and cinnamon - so divine and then headed off to celebrate more with his family. It was such a lovely day.
To end this long post, I will note that we did not really take any pictures while we were out because we just wanted to enjoy one another, celebrating Al's special day, and honor our time alone together (and give Al the day off). I did however manage to snap a few pics the following day of what I wore. A lacy romper - more on the dressy side seemed to be the perfect thing on this day.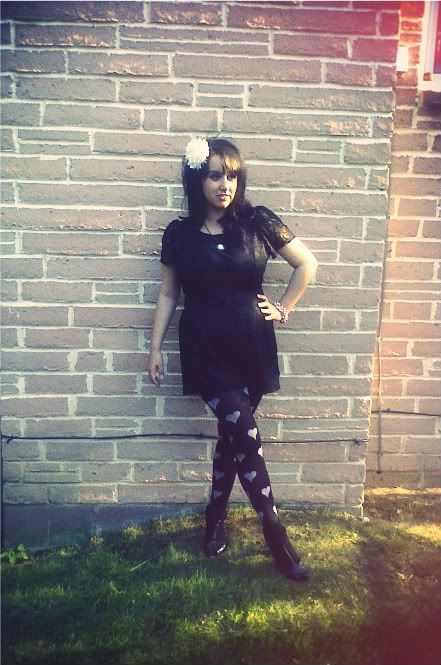 I hope everyone else had a beautiful weekend. Now that I'm getting used to the swing of my new schedule, I look forward to catching up on all your lovely blogs and getting plenty of rest and relaxation as this new weekend is quickly approaching.
Outfit Details:
Romper and headband: Modcloth
Cameo Necklace: Etsy
Tights: Topshop
Shoes: Urban Outfitters