I have a million things on my mind right now. There is so much to do and I am feeling overwhelmed. I need to unpack, I need to practice piano for a wedding I am playing for this weekend, I need to do laundry, I need to sleep. I'm trying not to think about what else I need to do. Is anyone else feeling this way?
Onto my blog post. I've was eyeing this little romper in Urban Outfitters for quite some time and finally decided to go out on a limb and purchase it. (I was motivated even more so because I had a 20% coupon to use, lol). I am short and I am curvy and I realize that rompers are better suited for the tall and skinny, but I really didn't care because the purple and green floral print caught me. So here it is - my green and purple romper that is comfy, cool, and mad cute: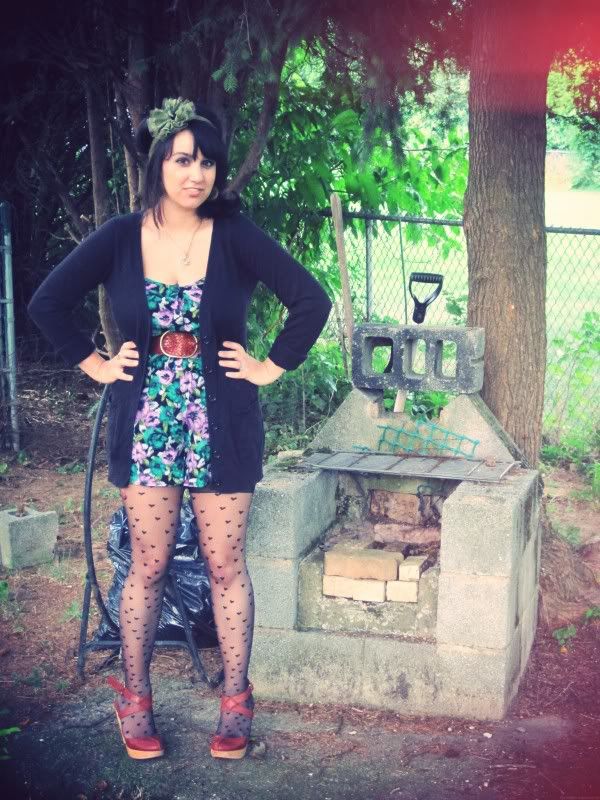 Ok, so I know there are many different opinions on this, but I love mixing brown with black. I was so happy when I found my mom's old belt. I was even happier to discover that it fit me again after months of carrying extra baby weight.
Meet my cat, Philly. He was spectating our little photo shoot through the back window.
Father and son. I love these guys!
Outfit Details:
Romper: Urban Outfitters
Headband: Topshop
Belt: Vintage, from mother
Cardigan: old
Necklace and Tights: Urban Outfitters
Shoes: Seychelles
Ring: Vintage, borrowed from grandmother